HIGHLIGHTS
Co-Location Study/Decision
Troubleshooting Jitsi Meet (Videoconferencing Software)
Minor Fixes to Virtual Studio Website
Started Work on Contributor Guide
Setup Ragdoll Rig on the "Space Bunny" Prop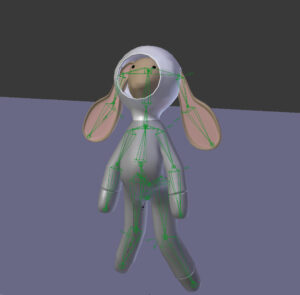 Co-Location
This April, we studied the possibility of moving our "virtual studio" server from cloud services on Digital Ocean to a co-located server in a nearby city. After studying this, we determined that the change would be very nearly budget-neutral (the Digital Ocean bill has been getting kind of high), but would give us a substantial performance improvement and room for growth, if we decided to expand our business to hosting other projects. The most obvious immediate impact would be to speed up access to our Nextcloud folders for production files. The current S3FS storage is extremely slow, and moving to a co-located server would mean would could just put this data on a conventional large hard drive.
Ironically, hard drives are becoming less common on datacenter machines, as SSDs become more popular, but they are still the cheapest storage per-gigabyte, and thus make good sense for source files. The server will also have an SSD for normal web content.
I likely will not completely eliminate the Digital Ocean services: they would probably be a good idea to host our static websites, since we would be able to scale back to a minimal droplet VPS, and would not go down if we have problems with our own server.
Jitsi Meet
After seeing the successful use of Jitsi for the "Creative Freedom Summit" earlier this year, I decided Jitsi might be a better option for video-conferencing, and installed it on our YunoHost server. It didn't immediately work, and testing reveals that the problem is ports that need to be opened on our server — 10,000 and 4443, which Jitsi uses. I have not yet resolved the problem as of April 30th, but it seems to be relatively simple to fix.
Virtual Studio Site Maintenance
A number of minor issues had accumulated on our server. We had no icons installed for some of the YunoHost Portal applications, and this resulted in a very broken appearance. I have now cleaned that up: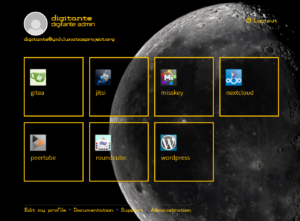 And, of course, fixed the broken Pixelfed icon on the Production Log page. I started to work on the tabs, but then realized this is really more of an overall problem with the site architecture: I really need to rethink what it is going to be used for. I then started working on editing and reorganizing some of the WordPress "pages" on the site, to bring them up to date and fill in gaps.
Contributor Guide
The biggest part of the overhaul of pages on the WordPress site was adding a page dedicated to helping prospective new contributors to the project. So much has changed that this is basically a complete rewrite from scratch. It's still a work-in-progress, but you can see the current state here: New Contributor Site Guide.
Ragdoll Rig
Towards the end of April, I created a ragdoll (simulated physics) rig for Georgiana's ragdoll "space bunny" toy. This is a model (created by Keneisha Perry) of an anthropomorphic rabbit with a spacesuit. Animating the movement of this doll realistically by hand was proving really difficult for me, so I decided to use a simulated ragdoll rig, since it is, in fact, meant to be a ragdoll.

I recorded a screencast of my process on this rig, and I'm working on a voice-over for it this first week of May.
Video Worklog Summary
Edited highlights from my daily worklogs for April 2023, which includes the Ragoll Rig above, and other project-related activities:
APRIL 2023 Project Report (Music, No Commentary)
This month, I finished the ragdoll rig for the "Space Bunny" ragdoll that Georgiana has on her spacesuit during the latter part of the episode.
I also made a lot of small practical fixes on the project website / virtual studio: new/fixed icons, some of the project rules and other utilitarian text. Found out about a site that generates legal "contributor agreements" and looked into adapting that to our project.
Also wrote a general "contributor guide" that covers project goals and practical considerations, as well as the licensing policy.
We started work on a small live-action film project with some local theater students, and did some location scouting at local parks.
I decided to add some LED lighting strips for indirect lighting in our library. That was a fun project, though the particular strips I bought required a little modification. And finally, I needed to do some handyman work.
HIGHLIGHTS:
00:00 Summary
00:10 "Lunatics!" – Ragdoll Rig
03:43 Website/Virtual Studio Updates
08:55 Contributor's Agreements & Guide
13:11 "Field Trip" – Location Scouting
13:30 Installed Indirect Lighting in Studio
15:13 Shed Lighting / Electrical
15:37 Lumber Recovery
15:55 Music Credits / Patreon Links