HIGHLIGHTS:
Website plan to migrate archives into S3 storage stopped by lack of FUSE support with Rose Hosting.
Article commissioned on Zebra barcode reader support with Linux / Open Source software.
Query from Maurice Thomas about voice work.
Disk and jacket art designs for Open Movie edition of "Lunatics!" episodes 1-3.
Experimental animation of flame plume using Blender's cloth simulation (not that happy with the result).
Aug 7, 2018 at 3:56 PM
Not in Kansas Anymore…
I know I've been kind of quiet lately. Last week I traveled to Kansas with my family to check out Wichita State University  with my son and also to see the Kansas Cosmosphere (I'll see if I can post some pictures soon), which has one of the best space history collections in the USA.
Also had a chance to see "Shocker Studios", which is WSU's animation/VFX school. That was pretty interesting. Among other things, they have a mocap studio and a green-screen stage. That was definitely fun, although I don't know if it will be of material use to us.
Finally, I am making final changes to and testing our Ansible DevOps scripts to update the server. I'm a little behind and the website may be down for sometime today (maybe even tomorrow?) because of this.
The new site won't really be appreciably different, but it'll be the beginning of a more-regular cycle of updates, so we can make it better faster.
Right at the moment, I'm dealing with the sort of annoying trivia that gets in the way of these changes: e.g. I just ran out of disk space to hold the site backup and have to move a lot of files to another drive to make room. It's not hard to fix. Just time consuming. :-PBut I'll get there soon!
Aug 10, 2018 at 4:00 PM
Lunatics! Project Site is Back Up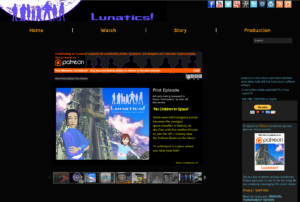 Our project site has been down for a good part of this week for maintenance and is now back up.
The new update involves a lot of changes under the covers (the most basic being an updated operating system), and it is all built automatically now, using Ansible. However, the resulting site is nearly unchanged — it's what we call "refactoring". Our old content should all be migrated to the new platform.
It's an important step towards making more frequent updates, since it makes building the existing parts of the website repeatable. It also means we can rebuild the whole site if it should get hacked. We do all of our security-sensitive stuff (like donations) through 3rd party services and avoid keeping sensitive information on our own server — I think that's the only practical way for a project as small as ours to keep up with user privacy/security concerns.
My goal is to start making small changes from now on, about once a month, to bring up the new services and data repositories I've talked about in the past.
Aug 14, 2018 at 4:00 PM
Draft Disk Art for Source Edition DVD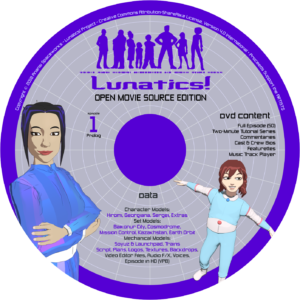 I spent some time today looking into options for making our source edition DVD (one of the perks for the $50/Episode Patrons and we will also offer it for sale). This edition will be targeted at open movie fans.I'm still uncertain what will be on this first disk, because I'm not quite sure what all the components add up to, but my initial goals are:
DVD Content (Viewable with a regular DVD Player)
Full episode in standard-definition.
Two-Minute Tutorial Series
Film Freedom Documentary Short
Cast & Crew Bios
Commentary Track
Player for Soundtrack Music Tracks
DATA (Accessible with a Computer)
Character model files for Hiromi, Georgiana, and Sergei (and maybe supporting characters).
Set model files for Baikonur and the Cosmodrome
Mechanical model files for the Soyuz system and the trains.
Sound effects and voices
Backdrop and texture images
Script and some planning documents
Episode in high-definition
I also mocked up the next two disks, to finish out the "No Children in Space" story:

These are all subject to revision, of course.
Source Edition and Consumer Edition
The reason I call this the "Source Edition" DVD is to avoid confusion later on.  Although for now, this will be the first and only way to get Lunatics! on an official DVD, we anticipate that we will have a "Consumer Edition" OVA release with multiple episodes on it later on, which will probably have a much wider audience.
* ERRATUM: An earlier draft said this was a perk for the $20 tier, but it's actually the $50 tier ("SILVER SPONSOR"), as you can see on the overview page. I apologize for the confusion, but variable shipping costs could make that infeasible. I might change this as I review order fulfillment options.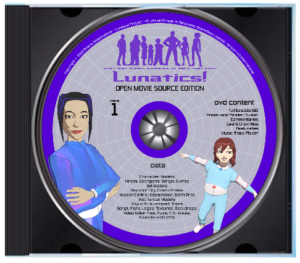 Aug 15, 2018 at 4:00 PM
Subversion Server Confirmed Working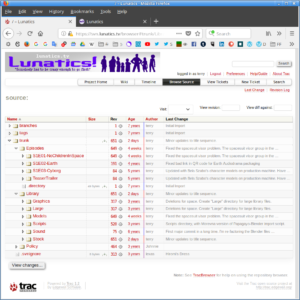 I got news back from Keneisha Perry that the restored Subversion server is working for her, so we're back in business on the work for Episode 1.It hasn't been a complete success. There were many technical problems with my Ansible playbook scripts and some simple oversights on my part. So I will have to make some improvements before using them again.
Still, I think it proved the principle: Ansible-based maintenance is going to work for us.
Aug 16, 2018 at 10:53 PM
Well. So much for that plan…

I spent quite a bit of time designing a plan involving using S3-backed storage with FUSE ("filesystem in userspace") to solve the problem of hosting our repository with our existing VPS-based web hosting.But it turns out that FUSE is not supported by our VPS (an intentional limitation – I've already asked).
Because although FUSE filesystems do not require kernel space access, FUSE itself does.
That's a real show-stopper, and I wish I had realized this a few months ago when I came up with this plan.
So, I'll have to come up with an entirely different plan. I'm quite frustrated with that, but there are options — we could try to use cloud servers for the data-heavy applications (possibly the cheaper option, but requires a lot of preparation). Or we could just bite the bullet and get a co-located server (higher cost, but simple and a lot of growing room).
One nice thing — moving to the DevOps model with Ansible works just as well for this migration as it did for upgrading the VPS. So that work wasn't wasted.
Aug 20, 2018 at 4:01 PM
Project Site Migration Update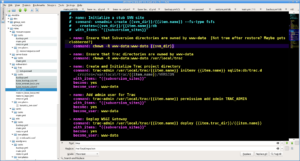 Production Log: Project Site Migration UpdateDetails about our website software work and transition to DevOps, as well as the need to change our VPS service soon to accommodate large repository storage.