HIGHLIGHTS:
Installed flooring in the studio library
Researched/setup offline harddrive storage
Patreon, Discord for Film Freedom Project
SF-1 Scene Assembly work
Alice in Wonderland: Down the Rabbit Hole film
Tested EXR workflow
Tested green screen workflow
Texas Linux Fest 2019 (Debuted the "Conception to Completion" at lightning talks).
PRODUCTION SNAPS: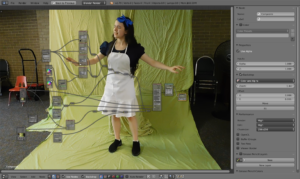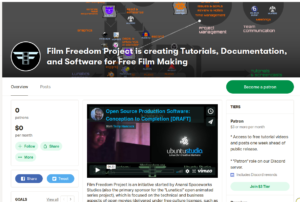 May 3, 2019 at 6:26 PM
Test Render from SF-1-B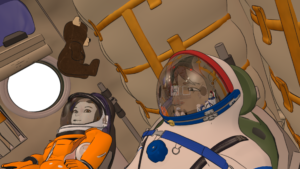 This is a new two-shot of Sergei and Georgiana for a bit of dialog in in the Soyuz Flight sequence.
Some problems had accumulated with the composition in the final sequence, so I've been making a few changes.
This is fully-rendered with the Freestyle ink lines composited.
May 16, 2019 at 5:00 PM
Through the Looking Glass
Over the last week, Georgiana Lerner has been helping out with a local community theater project, standing in for "Alice" in a video I'm producing for Southwest Reprise Theatre's production of "Alice in Wonderland".
The video provides the "Down the Rabbit Hole" sequence, kicking off Alice's adventures in Wonderland.
The final video will use live-action greenscreen footage of the actress playing Alice in the production, but I needed to simulate the greenscreen footage to test out the compositing idea, so I made a video of Georgiana based on what I thought we could film against the greenscreen, and then used the resulting video in the compositing process. Georgiana seems to fit the part very well, especially in her pinafore outfit from episode one.
I was pretty excited that the reflection in the shiny floor looks so good here — it's actually reflecting the flat billboard, as the model of Georgiana is not actually included in the Blender file with the 3D set. Which of course means that the live-action billboard should also be reflected similarly.
This is my first attempt at a VFX shot in Blender — fortunately a pretty forgiving one, but I expect to learn a lot from it.
I have also been solving some technical problems with software and of course, finishing up the SF-1 assembly, as well as recording screencasts for "Film Making for 'Lunatics!'" More of that will be coming soon — I have a lot of screencast footage for it already, but have not had time to edit the next videos in the series.
BlendSwap has also been indispensable for this project, as the set here is basically a "kit bash" based on an Italian castle model by Luca Sassone, along with chess pieces modeled by "DomKim", and I used many other models in the video.