HIGHLIGHTS:
LUNATICS PRODUCTION
Worked on the S1E01-LA "Launch" sequence this month. It is very nearly finished now. Still a few tweaks here and there, and I haven't added the extras yet in the shots that call for them. The Mission Control shots aren't fully animated, and I haven't pulled the Georgiana PoV shot in the Soyuz from the "Soyuz Flight" sequence yet.
KITCAT
Installed the Lua interpreter on Sintel, and started learning it.
Did some design work on context management and how I might implement it.
RESEARCH
Learned some about "Non-Fungible Tokens" (NFTs). Tried to understand the merits of the environmental arguments about them and also whether they make sense as something I might use.
SOFTWARE UPDATES
After noticing serious codec problems in Kdenlive, I upgraded to the version from the upstream PPA (20.12.3), which brought in updated codec configurations and fixed the problem. Also learned this version allows for replacing clips and has initial support for OpenTimelineIO.
PURCHASING
I replaced my large workstation monitor with a 4K Philips monitor (not a TV this time). This is an enormous improvement, and I think it really helped my productivity this month.
I acquired a Primera Bravo II disc printer/duplicator. This is the only model Primera provided Linux support for, and I've found documentation on how to control it and install drivers for the printer.
This particular one doesn't have a working disc burner, but I wanted to replace it with an M-Disc burner, anyway. I think this will work, because it appears to use a standard SATA internal disc burner. But I will need to examine it more closely to be sure.
ANNUAL REPORT 2020 / TAXES
Completed the topical summaries for "Lib-Ray" and "Other Development" project work from 2020.
WORKLOGS
Added direct-to-camera commentary, using Cheese, overlaid on my monthly summaries for January and February. I also made trimmed "public" versions of the summaries I could post with my Production Log entries or use as extras on the DVD, perhaps. Still unsure about their value to fans, but maybe they'd be interesting.
Mar 1, 2021 at 4:01 PM
Rob Lerner Turnaround
Turnaround video of Rob Lerner, the ostensible leader and organization founder of the ISF-1 colony.
Mar 3, 2021 at 4:01 PM
Character Turnaround: Anya Titova
Character model for Anya Titova.
Written: Rosalyn Hunter
Character Art Design: Daniel Fu
Model: Bela Szabo, Keneisha Perry
Rig: Keneisha Perry
Art Direction / Animation for Turnaround: Terry Hancock
Mar 7, 2021 at 4:00 PM
Character Turnaround: Sarah Allison
Character turnaround for Dr. Sarah Allison, the lunar geologist who joins the colony at the end of episode 5, as currently planned.
Written: Rosalyn Hunter
Character Design: Daniel Fu
Model: Bela Szabo, Keneisha Perry
Rig: Keneisha Perry
Turnaround Animation: Terry Hancock
Mar 10, 2021 at 4:00 PM
Character Turnaround: Josh Farmer
Character model turnaround animation for Dr. Joshua Farmer, the space agriculture specialist whose job is to make the colony viable and as self-sustainable as possible.
Story: Rosalyn Hunter
Character Art Design: Daniel Fu
Model: Bela Szabo, Keneisha Perry
Rig: Keneisha Perry
Turnaround Animation: Terry Hancock
This is the last of these I'm going to do for awhile. It's certainly more than I needed for the promo video I was going to create. But it's also true that several of these models haven't gotten much exposure, before. Josh's is probably the least developed — we need to do some more work on him before his debut in episode 2.
Mar 11, 2021 at 4:01 PM
What is Creator Endorsed (with music & effects)
The previous version with the dry voice track was a little weak, so I decided to try adding some music and effects. I'm pretty happy with the results. I think it's an improvement.
This is the first time I've done a soundtrack like this with abstract effects to follow the narration, so it was kind of fun just for that reason.  All of the sounds are from FreeSound.org and are under CC-0 public domain dedication, because I wanted to keep this release under the freest possible terms.
It isn't strictly required to credit such sound files, but I'd like to credit them here (FreeSound ID, username, title):
Music Tracks:
337307  frankum  "progressive-chords"
468407  onderwish "sci-fi-survival-dreamscape"
437222  esistnichtsoernst "rachmaninoff-barcarolle-on-airy-synth-pad"
209315  unfa  "space-organ-ambient-music-2013-11-30"
175190  minigunfiend "chill-chord-01"
324566  klavo1985  "pirate-at-sea-organ-music"
540048  szegvari  "fairy-dream"
495825  andriped  "tekno-jazz-drum-atlas"
Effects:
119557  vrodge  "office-printer-start-up"
352957  ryanestradadotcom  "broke-yeti-music-created-by-a-glitching-microphone"
50900  rutgermuller "car-seatbelt-clicking"
144321  fumiya112 "crash"
209578  zott820  "cash-register-purchase"
519426  kookienomz  "pirate-yar"
50888    rutgermuller  "car-door-porter-unlocking"
135369  blackie666   "wobeep"
113218  satrebor  "click"
For more about the "Creator Endorsed" mark, please refer to QuestionCopyright.org .
For more about the Creative Commons Attribution-ShareAlike license, please visit CreativeCommons.org .
This video itself is released with the CC-0 Public Domain dedication, to be as freely shareable as possible.
Mar 13, 2021 at 4:01 PM
Open Movie Promo
Another ancillary video produced for the release site. This is a short promotional talking about what sort of stuff you will find on the initial "Open Movie Edition" DVD releases for "Lunatics!"
I'm probably going to release a digital delivery package with essentially the same content, as well, but I'm still partial to having a physical version available.
Addressing an earlier question: I researched this and I'm sticking with NTSC video for the DVD, because it's more universally playable, the standard doesn't allow for an NTSC/PAL hybrid, and because the HD version that you will get on the disk will be much better quality than either NTSC or PAL. It should play in PAL players (the DVD will be region-free, obviously).
And yes, I'm doing this ancillary stuff because I'm procrastinating on relinking shot files (a bit tedious), but I do need it for the release.
Mar 18, 2021 at 4:00 PM
Back to Production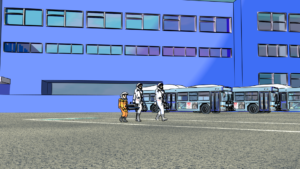 I got back to work on the episode today. I'm putting stuff into shot files again. This is "LA-1-A", the first shot in the "Launch". The bus is from BlendSwap, by Nick Royer, but with new materials and art I assembled from some public domain elements.
Still missing the extras, though. Those will come up next.
Mar 25, 2021 at 4:01 PM
WIP: Launch Sequence 1-A/B
Just some production tests for the first two shots in the "Launch" sequence, which are another synchronized wipe (I did a shot similar to this in the "Touring Baikonur" sequence earlier, where Georgiana appears to skip across from one shot into the next.
In this one, we wipe from the characters walking about of the integration building to a shot of them approaching the launchpad (which cuts out a bus ride), but the characters' walk seems uninterrupted.
It is a bit tricky to get the camera move on the characters to look like I want, and yet have the two shots include details from the sets that I want. So I have done a lot of trial and error with the camera path.
Here's the current status of the camera path (in the LA-1-A shot, which is the integration building). I've used empties to mark desired points I want the camera to go through, as constraints on where the path can be.
Just to make things more complicated, this carries the camera inside the building in the LA-1-A shot, though that location is in the clear in the LA-1-B shot. But I was able to avoid problems by using the camera clipping limits to avoid seeing the building. It's sort of a "magic camera" shot, because I can have the perspective from this location, without the building being in the way.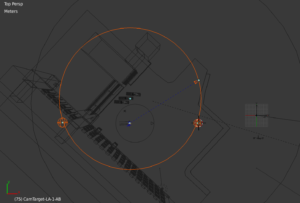 Not happy with it, yet. But it's getting closer.
Mar 28, 2021 at 4:00 PM
More WIP on the Launch Sequence
These are tests from the LA-3 (pure mech) block of the launch sequence. This week, I relinked these, incorporating the updated set and sky system. I'm also trying out some new angles that I thought might work better than my original plan.
Still missing the rocket plumes, though you can see the effect of a plume lamp on the lead image here (there's a point-source light representing the glow lighting from the plume). That's because I still have to group the effects rig for linking.