HIGHLIGHTS:
The big event this month was the breakdown and upgrade of the Primera Bravo II Disc Duplicator.
I also upgraded my YunoHost servers and added a Nextcloud server, though I'm still experimenting with how best to use it.
PRODUCTION:
I spent quite a bit of time collecting custom emojis for my Film Freedom Misskey instance, and also creating new emojis derived from Open Movie characters: Sintel, Scales, Emo, Proog, Pepper, Saffron, Coriander, Shichimi, Morevna, Ivan, and of course my own Lunatics characters: Rob, Hiromi, Georgiana, Anya, Josh, Tim, Sarah, and Allen.
Collected music, lyrics, and recordings by Tom Lehrer, which he granted to the public domain on Nov 1, 2022. Some really interesting stuff in there, which I may be able to use in soundtracks.
Verified the license on "A Fat Blue Christmas", which is probably my favorite of the Jamendo Christmas albums. It is indeed under the By-SA license, as I had listed. I got screencaps.
DEVELOPMENT:
I disassembled the Primera Bravo II Disc Duplicator that I purchased in 2021, and removed the DVD burner in it. This is indeed a standard internal drive, with a USB interface, which I tested by hooking the system up to Sintel.
I order an LG M-Disc Multidrive and a USB interface adapter and then upgraded the Duplicator with those. I then tested that it all worked together.
The next step is to start developing the software for it.
IT:
Replaced the monitor on the Lenovo T-410 Thinkpad laptop. However, it is now reporting a "Fan Error". Either I've blocked it somehow during the repair, or the fan will need to be replaced.
Rebuilt the Narya.Net server and installed the latest YunoHost (v11), and created a Pixelfed instance.
Upgrading the Anansi.Space server was trickier, because this had to be done as an upgrade-in-place to avoid serious data loss, particularly for Misskey. I'm not really happy with this requirement. I think it would be safer to have a rebuild-from-scratch option and just migrate the relevant data.
Reinstalled Nextcloud under studio.filmfreedom.net, to be used for production source files. I set up the music archive as an external storage and did some testing, after migrating the S3FS repo drive from AWS-S3 to Backblaze B2.
I enabled media playback and metadata apps, but it seems to have trouble reading the metadata from Jamendo MP3 files. Still investigating this.
Made attempts to install Calckey on YunoHost, with an unofficial app script that Carlos Solis created, but it didn't work for me. I still think it would be a good idea to migrate from Misskey to Calckey, as it has some important features.
BUSINESS:
I contributed $120 to the Calckey development fund on Liberapay. This is nominally $40/month for three months. I will probably reduce the amount when it comes up to be renewed, but I wanted to invest in it and give the developer some incentive, especially since I'm hoping to use it.
CONSTRUCTION/MAINTENANCE:
Continued disassembling the playset and repurposed some of the lumber for the front walkway.
Repaired the broken threshold on our front door, just in time for the arctic cold snap we had right before Christmas.
HOME:
We had a really nice, albeit low-key Christmas this year.
Primera Bravo II Disc Duplicator Project
I just started a post series about the disc duplicator that I'm upgrading to handle M-Disc BD-R media as well as planning to write control software for to run on Linux/Free Software. In this first one, I disassemble the duplicator in order to understand it better and to remove the DVD burner that I plan to upgrade. So far, there are two articles, focused mainly on reverse-engineering: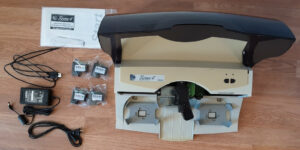 This will be the first in a series of articles about converting a Primera Bravo II DVD duplicator into an M-DISC BDR / DVD / CD duplicator. My goal is to create a suitable duplication machine for commercial-quality print-on-demand BD-ROM and Lib-Ray video discs.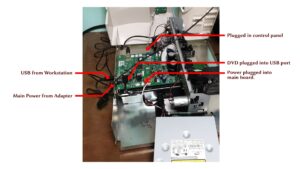 Primera Bravo II – Testing USB Topology
This is the second in my series on upgrading my Primera Bravo II Disc Duplicator to work on M-Disc BD-R media. See the first post, on breaking down the machine and removing the DVD burner drive from it..
We've come to the end of 2022, and there have been a lot of changes. For 2023, I'm going to transition to a different workflow for posting project updates, which will recenter this Production Log site, rather than posting initially on Patreon. I will still post updates there, but they will be links to articles here on the Production Log.
There are several reasons for this, but one is that it will make it easier to diversify fundraising sources as well as make it easier to open up the logs to direct contributors as well as funding contributors. It will also eliminate some overhead in converting the articles at the end of each month.
Summaries will reference the articles by links, making them more compact.