HIGHLIGHTS
This was a good month for production work, finishing rendering on one full sequence and recovering another. I also completed some IT work, writing, and development.
PRODUCTION:
Using the Dell PowerEdge R720 that I originally purchased for colocation, I have been able to complete rendering on the SR "Soyuz Rollout" sequence, after making some animation changes. I also have made progress recovering the Blender shot file for the TR "Train" shot, TR-2-A.
DEVELOPMENT:
Since I have pulled my sources out of Git and eliminated version-control data, I am now changing procedures to manage sources using rsync and soon, Nextcloud.
I looked into the scripts I was using for Blender add-on development with Eclipse, and how I might port them over to VS Codium. This is important for ABX, which needs some upgrades to do work I need on our pilot episode.
WRITING:
I've continued work on my Project History series for the Production Log (Part 1, Part 2, Part 3), which will serve as a draft for a book, "Film Making for Lunatics". I've decided that there may not be much point in making a book specifically on Kdenlive, as I don't have excellent credentials for that. But I think this more-general book on film-making with free/open-source software has more potential. It's also the book I really want to write. So I've transferred my writing goal to that.
Project History will be only a part of that book, with other parts focused more on technical software and business issues.
OPERATIONS:
Since I am not ready for the move to the colocation site, yet, I have a Dell PowerEdge R720 in my office, and it occurred to me that it's a pretty good machine for rendering Freestyle animations. So I setup Blender on it, and started rendering shots.
Also, I installed Inkscape 1.3, which includes the font folder feature I've been asking for for a long time!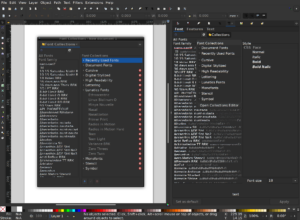 It's not exactly a professional accomplishment, but I also took a little time to find and install my "Lost Treasures of Infocom" set of interactive fiction games: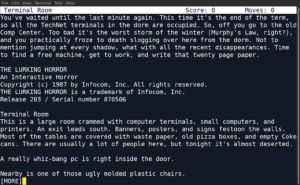 CONSTRUCTION:
In July, I removed the shelf my on-site servers were sitting on as part of the air-conditioner installation. This month, I reassembled that, and also added contact paper to protect the shelf (and make it prettier).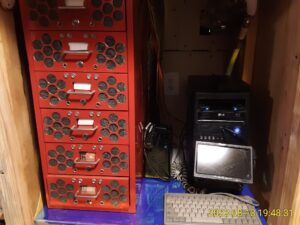 Also re-mounted the fire extinguisher, which I had removed to make room for a new bookshelf in May.
WORLD:
It's hot as hell. You may have noticed, if you're in the northern hemisphere. Texas has been seeing daytime highs well above 105 F/ 40 C, pretty much every day this Summer, and we've had hardly any rain (one quick storm at the end of this month, which was lovely, but does not make up for two months of drought).
The world political situation isn't any better than it has been, though not appreciably worse, either. There was a coup in Niger. The Ukraine war continues to steal the lives of Ukrainians and Russian soldiers. Putin is still in power in Russia, apparently assassinating anyone who threatens him. Trump and cronies are being prosecuted in the courts for the Jan 6, 2021 Insurrection. Repressive regimes are still repressing, and democratic regimes are still struggling.
CoViD lingers on, possibly spreading again as most people are trying hard to ignore it (hard numbers on the spread are no longer being published).
People are talking about climate change, but things aren't changing quickly enough to avoid serious consequences.
In times like these, I sometimes question what I'm doing with the optimistic future in "Lunatics!" It seems pollyanna-ish, with or without the humor. But then I remind myself how much the 1960s sucked, when "Star Trek" was being made, and I know that had a positive impact.
Video Worklog Summary
This month, I did a lot of production work, which accounts for most of this video:
First experiments with manually setting up compositing from rendered EXR-stream animation.
SR-SoyuzRollout sequence completed, including re-timing SR-1-C and revising the music to accommodate the longer sequence.
Revised Kdenlive assembly for TB-TouringBaikonur and TR-Train sequences.
Worked on reconstruction of TR-Train shot. This is to undo accidentally link breakage that happened years ago, as well as revising the external shot to use an alpha-transparency to be composited with TR-3 animation from the train interior (no longer trying to animate Georgiana separately in TR-2.
I also installed Blender on the Dell PowerEdge R720 server, copied the Lunatics source and Render folders to it, and started rendering shots there. I purchased this server to use for colocation of our web resources, replacing the current Cloud-based configuration. But I realized that while I have the server on site, I should use it to do rendering. It's much faster than my workstation, and I'm not ready to deploy it as a web server yet.
HIGHLIGHTS
00:00 Title Card
00:15 EXR Compositing Nodes
02:16 Regenerate Pad Crew Animation Loops for SR Sequence
04:06 Re-Timing and Revising of SR-1-C Close Pass of Soyuz on Transporter
05:54 Reconstruction of TR-2-A Shot of Train Exterior
08:31 Rendering Shots
14:36 Assembling Lunatics Sequences: SR, TB, TR
20:46 Experimental Development
21:57 Rsync Push/Pull Scripts
23:02 Photos from August
23:31 Covered and Replaced Server Shelf
23:53 Re-Mounted Fire Extinguisher
23:59 Patreon/Credits